More information on the occasion
Impactpool sponsors and promotes the collaboration of various multilateral and international organizations that desire to engage with a qualified audience from Africa as they continue to try to diversify their workforce in a 5-hour virtual career event.
Who should show up?
Candidates at all levels, from junior to senior, with at least 4 years of foreign work experience and a desire to make a positive effect.
Candidates who are currently employed or seeking employment in multilateral development organizations and international non-governmental organizations (NGOs) will be considered.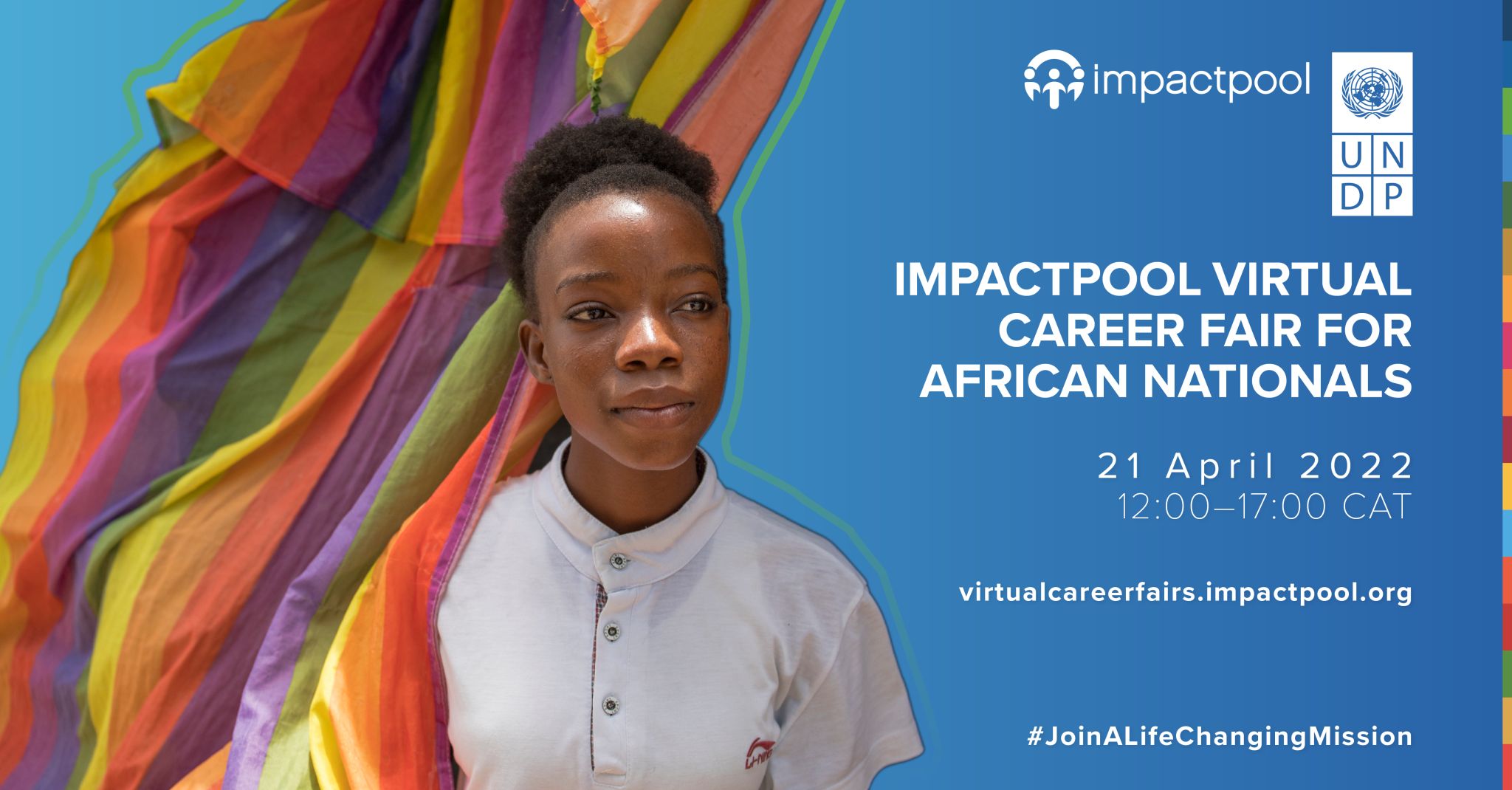 ALSO READ: The Citizen Entrepreneurship Competition for Young people worldwide 2022
Essential criteria to join this career fair.
4+ years of relevant international work experience
A Post-Graduate degree (Bachelors considered with more experience)
Multi-lingual (English, French, Arabic, Spanish)
an African national (if you have dual-nationality, please enter your qualifying nationality)
Please ensure you submit your CV in English when registering.
This event is conducted in English and is free to attend, with an approval-based registration. (limited capacity)
Participating Organizations
Why should you register for the event?
You can look up useful employer information, job openings, and watch presentations.
Request a private chat with an HR representative by selecting a chat topic. A full day of live lectures and seminars awaits you.
Complete your profile to be matched to the most relevant employer booths and job opportunities.
Although you may need to download Zoom/Webex/Teams to attend Breakout Rooms, no download is necessary.
Accessibility: The platform is extremely user-friendly. Persons with disabilities are welcome to attend any Impactpool Virtual Career Fair (PWDs).
COVID has had an impact on everyone, regardless of what business they work in. Now, more than ever, pursuing a vocation that has a beneficial influence is more crucial than ever.
Are you a citizen of a country in Africa Learn how to intern or work for the United Nations To take part, you must first register. https://virtualcareerfairs.impactpool.org/event/5886
Never miss an opportunity Join our WHATSAPP 1 
OR WHATSAPP 2 0R WHATSAPP 3
Join our TELEGRAM GROUP OR TELEGRAM CHANNEL